iDash Digital Monitor
---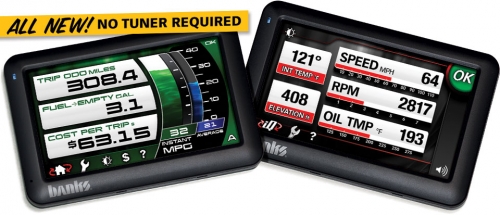 iDash® Digital Monitor
The most advanced digital monitoring suite on the market!
Features & Benefits:
» Reads and Clears Codes
» Now available with 5" or 4.3" screen
» Add EGT, Backup Camera, and more*
» Real-time, dynamic data
» Easy touchscreen control
» Monitor Performance and Fuel Economy
Vehicle monitoring — like no other!
Banks new iDash opens a window into the vital inner workings of your vehicle's ECU, letting you see what's beyond your dashboard gauges. Monitors and displays multiple vehicle parameters: speed, rpm, engine temps, etc. in analog or digital presentations. Logs performance and economy results. Set audible alarms, check or clear diagnostic codes at the touch of a button with its friendly touch screen. Designed to integrate into your vehicle's OBD II port.
Want to know what the iDash can read on your specific vehicle, click here ». This list will grow as we test more vehicles.