Tow Dollies
---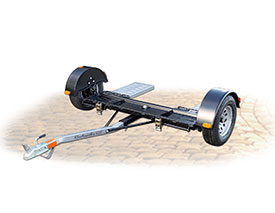 Tow virtually any car on a rugged, adaptable tow dolly with built-in ROADMASTER quality, value and safety features.

Both of these dollies are ideal for anyone who wants to tow multiple vehicles without having to buy a tow bar or install a tow bar mounting bracket. And a transmission lube pump is not necessary for vehicles with front wheel drive transmissions, since the front wheels are off the ground.

The RoadMaster Tow Dolly, part 2000-1, is our premium dolly; the RM3477, part number 2050-1, is the economical alternative.